Stonework & Paving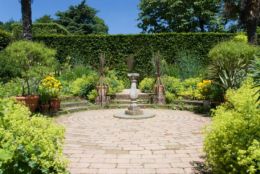 Country Lane Landscaping have many years of experience in this field. We will help you to select the most suitable type of walling or paving to complement your home.With such a wide choice of colours,textures and patterns, it can be difficult to decide which complements your home and garden.
Stonework
Repair of Stone Walls
Our specialist team of stone masons can repair your damaged or collapsed wall.We will assess the correct way to strengthen and repair the wall.
New Stone Walls
We build new stone walls for any site or situation.We build stone walls for new builds,private houses,country cottages,estate houses.We build stone walls for patios,garden walls, entrance walls, boundary walls etc.
Decorative Stone
For driveways,paths,borders,flower beds and stone for graves.Our range of decorative stone will enhance every situation.We stock a wide range of pebble and stone and can deliver any amount small or large.
Paving
We specialise in all kinds of paving work.Driveway paving,Patio paving,Carpark paving etc. The products that we lay include paving bricks, cobbles, natural stone, granite and brick sets, paving flags, kerbs and edging .All of our products are laid on adequate foundations and laid to suit the nature and function of the area.
Paving Maintenance
Repair of Paving

We can repair your paved areas.Whether it is sunken or damaged paving on your driveway of patio.We can re lay the paving, or supply and lay new paving for you if required.
Regular Paving Maintenance
Paving requires regular maintenance including regular sweeping. Moss and lichen can grow on the paving. Weeds can grow in between the paving if it isnt maintained.We provide a paving maintenance service.We provide once off visits and or regular visits.
Contact Joe Boylan at 087 267 3643