Tree & Hedge Planting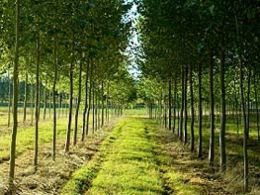 Country Lane offer a wealth of experience and knowledge to ensure the correct tree planting choice for your site.
Hedge Planting.

We provide a full hedge planting service.We pride ourselves on providing the finest quality of hedging and most appropriate type for new boundary planting.We can advise on the most suitable type of hedging for site/soil.We can supply all varieties of hedging which you may require.
Hedge Replacement Planting.
We offer a hedge replanting service.We can plant replacement hedging where the existing hedge has been killed off by frost or removed because it has become overgrown.We can remove the dead/diseased or overgrown hedge and replant it with new hedging.
Fencing Service
We offer a full fencing service supplying and erecting all styles of fencing.
Tree Planting.
From planting specimen trees to large scale planting of forests and copses,We can help you create the perfect Woodland.We can advise on the correct type of tree to plant, most suitable to the site and soil.
Woodland/Copse Planting
We at Country Lane have vast experience in Woodland and Copse planting.We can transform that piece of land which you always wanted to transform into Woodland for the future generations.Whether for commercial purposes or for the benefit of the flora and fauna.
Woodland Management Service
We provide a fulll woodland management service.From initial consultation to ground preparation and planting to yearly maintenance of the plantation.We offers various packages to suit individual client needs.
Supply of trees and hedging
We can supply all varieties of trees and hedging.We can supply oak trees,beech trees,birch trees, hazel trees etc.We can supply fruit trees such as apple, pear, plum, cherry etc and fruit bushes such as thorn-less blackberry bushes, blackcurrant, gooseberry, raspberry canes etc. We can supply beech hedging,laurel hedging,privet hedging,hawthorn hedging, yew hedging and any other variety of hedging that you may require.
Pruning and Maintenance Service
We also provide a tree and hedge,pruning and maintenance service.Whereby we return and keep them weed free during the growing season and prune them at the appropriate times.In addition to this we provide a wood chipping service.
Contact Joe at 087 267 3643