Turfing & Lawn Creation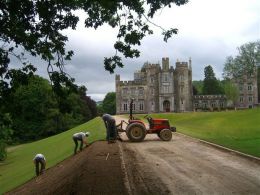 We pride ourselves on providing a quality lawn & turfing service.
All existing soil is prepared,debris removed,levelled and raked to give the best possible surface to lay the turf or seed.Where the site has a poor grade or lack of topsoil,we can supply and level graded top soil.
We provide a full lawn seeding and turfing service including-
Supply and Laying of Turfgrass/Instant Lawns

We can prepare your lawn and lay new turf and have instant lawn growing,often on the same day.
Artificial Garden Grass

Tired of mud getting dragged into the house.
Haven't got the time to cut the lawn and maintain it anymore.
Do you have a lawn that is difficult to maintain?
We have the solution!
We can provide you with a realistic looking lawn that is low maintainance and dries quickly after the rain.
We can install artificial grass in those areas that have become difficult to maintain.
We fit front gardens, back gardens, children's play areas, playgrounds, creche's rooftop gardens, dog runs, putting greens and many more.
Removal of old lawns
Is your old lawn tired looking,full of weeds and moss and making the rest of the garden look neglected.We can re seed or re turf your old lawn and add new life to the garden.
Supply of Topsoil prior to Turfing or Seeding
We can supply topsoil for new lawns that are being laid for the first time or for an existing lawn which might have sunken slightly.Removing the humps and hollows from the lawn will improve how it looks and make it easier to mow.We also supply topsoil to clients who are carrying out the work themselves.Ring us for a quote for topsoil delivery.
Grass Seeding
Sowing a new lawn or reseeding an old lawn.We can prepare the lawn and sow the lawn for you.We only use the highest quality of grass seed available.
Wildflower Sowing
Sowing wildflowers.We can advise on the correct varieties to sow.Prepare the ground and sow the seed for you.We have developed wildlower areas for country cottages,community areas for tidy towns, open areas and old landfill sites for county councils.
Camomile Lawns
If you want something that is different and unique why not try a camomile lawn.
We also offer a Turf Grass delivery service.
Goal Mouth Repair
We provide a goal mouth returfing service.Most pitches suffer serious wear and tear between the goal posts.Mostly,all that remains is a muddy hole.We can repair,re turf and have it looking good as new within a number of weeks.
We provide for the following:
Artificial grass for lawns and roof gardens
Event flooring and Exhibition carpet
Play area surfaces
Golf products, including artificial putting greens,pathway surfacing and golf tee mats
Contact Joe at (087)267 3643 for a quotation