Artificial Garden Grass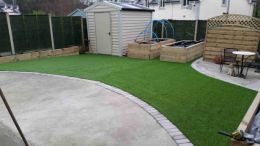 Artificial Garden Grass

Country Lane Landscaping are specialists in installing Artificial Grass!

House Gardens
Tired of mud getting dragged into the house.
Haven't got the time to cut the lawn and maintain it anymore!
Do you have a lawn that is difficult to maintain?
We have the solution!
We can provide you with a realistic looking lawn that is low maintainance and which dries quickly after the rain.
We can Install Artificial Grass in those areas that have become to difficult to maintain.
We fit front gardens, back gardens, children's play areas, playgrounds, decks, patio's, creche's, rooftops, dog runs, putting greens and many more.
Contact Joe Boylan
(087) 267 3643